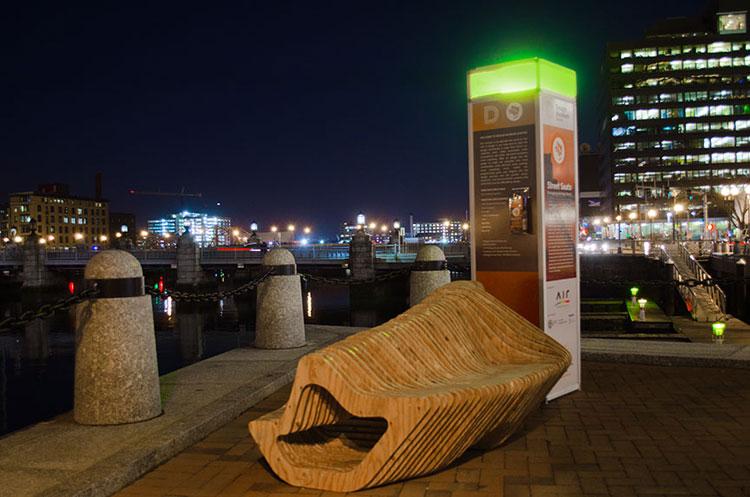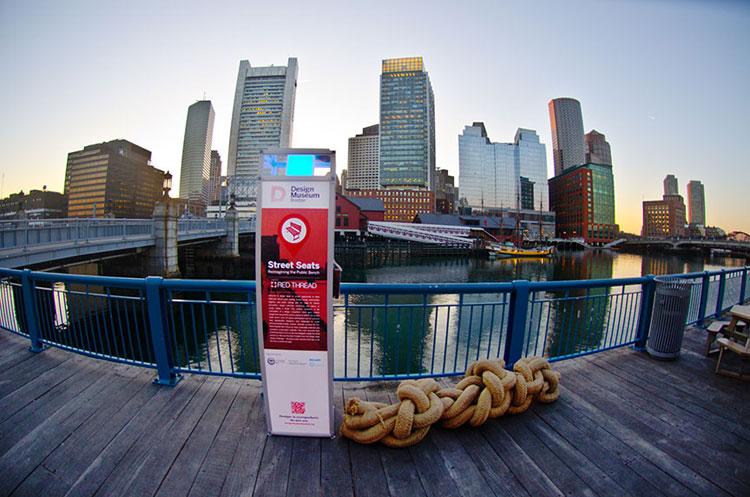 Philips developed special interactive LED lighting beacons as part of Design Museum Boston's Street Seats International Design Challenge. The innovative lighting solution and the integrated mobile application were created exclusively for this exhibit. These beacons provide additional information and a playful outlet for visitors while also generating valuable insights for ongoing research on responsive cities at Philips.
QR Codes link each bench to a mobile application that contains renderings, background information, videos and additional images for each bench and guides people through the exhibition. The mobile application (http://benches.designmuseumboston.org/) also contains an interactive lighting feature that allows visitors to change the color of the beacon in real time via their mobile devices. When a visitor approaches a beacon, he or she selects a color on the cloud-hosted web application. This color data is then transmitted via the onsite wireless network to that particular beacon. Visitors can change colors for several minutes to express their enthusiasm for the exhibit and are then prompted to move on to the next beacon.
The collaboration with Design Museum Boston's Street Seats International Design Challenge exhibition is part of ongoing work on how intelligent lighting technologies can contribute to livability in cities. By creating a site-specific installation, Philips is able to explore the possibilities for future lighting systems and services that attract visitors to neighborhoods, enable retailers to present themselves in new ways, and build a sense of pride and community for residents and visitors alike.
Design Museum Boston
Derek Cascio, Sam Aquillano, and their team of volunteers
Department of Public Works Boston
Para Jayasinghe and Fouad Hamzeh
Boston Tea Party Ships and Museum
Shawn Ford and Ted Galo
Head of the Charles Regatta Wireless
Eric Malkowski and David Leslie
Cykod
Martha Rettig and Pascal Rettig