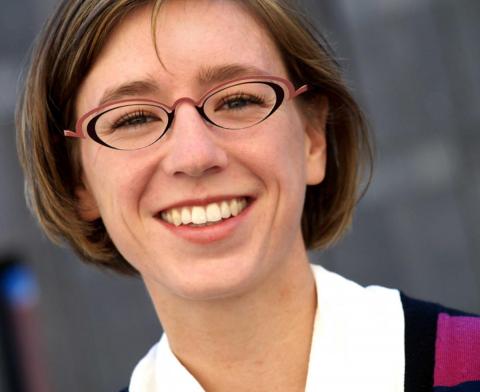 (Photo Credit: Chris Pfaff, Vienna, AT)
Hi there! I work at Philips Lighting -- you can jump straight to my official bio. I'm also affiliated with Prof. Joe Paradiso's Responsive Environments Group at the MIT Media Lab. I'm active in the Illuminating Engineering Society of North America. My husband and I live in Boston. When I'm not talking about light and lighting I like to do yoga, cook and travel to other cities.
There are a few other sources of information like my LinkedIn profile. My ResearchGate page is not well-maintained and my publications are also all posted on this site. I'm not good about posting on Twitter, but may-be that will change.
Susanne Seitinger, Global Sub-segment Manager for Parks and Plazas/Open Spaces in Professional Systems at Philips Lighting is responsible for leading the strategy around the impact of programmable LED lighting elements to create safe, inviting and responsive urban environments. Her combined background in architecture, urban planning and human-computer interaction is comprised of research and design projects like the Digital Mile in Zaragoza, Spain and Urban Pixels, wireless LED pixels for ad-hoc media façades. LightBridge, a project in honor of MIT's 150th anniversary in Cambridge, Massachusetts, used new configurations of low-resolution displays and sensor-activated urban screens to showcase the potential of responsive infrastructures in future urban lighting plans. She recently published Light for Public Space which provides an extensive overview of recent city lighting design trends.
Seitinger received a BA from Princeton University as well as a PhD, MS and MCP from MIT. Her PhD dissertation—Liberated Pixels: Alternative Narratives for Lighting Future Cities—explored the aesthetic and interactive potentials for future lighting and display infrastructures.
Contact Information:
Susanne Seitinger, PhD
Global Market Segment Manager
Smart Cities | Open Spaces | Government Buildings
Public Segment | Professional Systems | Philips Lighting
3 Burlington Woods Drive, Burlington MA 01803, USA
susanne[dot]seitinger[at]lighting[dot]com
susanne[at]media[dot]mit[dot]edu
Mobile work: +1 (781) 460-7059
Mobile personal: +1 (718) 753-2854